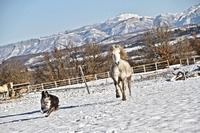 Welcome to the Ribiers Equestrian Center ! We are situated at 10 minutes from Sisteron and 15 minutes from Laragne-Montéglin.
We offer different kinds of horse lesson depending on our age and our level of practice. The most famous type is ride in the mountain or near the river, it could be adapted for all the ages and levels. For the children, we advise "stage" which is a half day of practice constituted of a taking care of horses, one hour of riding and one hour of discovering another kind of practice like pony games, ethology…
Contact us for more information !
 

+33 6 72 80 87 23